The Case for Essential Services Infrastructure

Complete the form on this page to download the investment brief.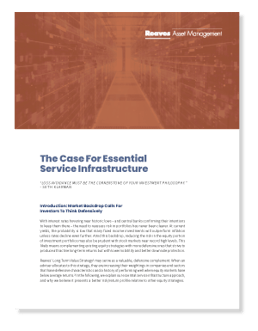 For more than 40 years, Reaves Asset Management has maintained a steadfast focus on the infrastructure companies most essential to the functioning of a modern economy. We believe the stability of these franchises can lead to superior long-term, risk-adjusted returns due to the defensive characteristics of these companies and their ability to grow earnings and dividends through an economic cycle.
In this short investment brief, we explain the concept behind our essential service infrastructure approach, including:
Why defensive equity strategies may be needed more in today's environment

The typical characteristics of the companies we seek

Examples of some of the companies and industries we invest in
Please fill out the form on this page to download your copy. We appreciate your continued support.
---
Reaves Asset Management is an investment adviser registered with the Securities and Exchange Commission under the Investment Advisers Act of 1940. Reaves is a privately held, independently-owned "S" corporation organized under the laws of the State of Delaware.

The information provided in this blog does not constitute, and should not be construed as, investment advice or recommendations with respect to the securities and sectors listed. Investors should consider the investment objective, risks, charges and expenses of all investments carefully before investing. Any projections, outlooks or estimates contained herein are forward looking statements based upon specific assumptions and should not be construed as indicative of any actual events that have occurred or may occur.
Net performance reflects the deduction of advisory fees which are described in detail in Reaves' Form ADV Part 2A. Please contact us at info@reavesam.com to obtain Form ADV Part 2A and for more information about Reaves Asset Management.

Past performance is no guarantee of future results.
All investments involve risk, including loss of principal.

Important Tax Information: Reaves Asset Management and its employees are not in the business of providing tax or legal advice to taxpayers. Any such taxpayer should seek advice based on the taxpayer's particular circumstances from an independent tax adviser.
Please review these links: Reaves Asset Management's Privacy Policy and Cookie Policy.